Descendants of David James

First Generation
---
1. David James,1,2 son of William James and Ann ———, was baptised on 24 May 1732 in St Helens, IOW,3 died on 10 Jan 1822 in Haven Street, IOW 4 at age 89, and was buried on 16 Jan 1822 in Holy Cross Church, Binstead, IOW.5
David's parents have not been fully identified. The record of his baptism in the parish register of St Helens says that his father was William James and from his brother William's Will it seems that some of his surviving siblings included two additional brothers named Edward and John and a sister called Mary. The baptismal records for John and Mary both state that their father was a William James. In addition, Mary's also gives her mother's name as Ann. No record has been found of Edward's baptism.

In c. 1766 a William James of Ryde died, leaving a Will that made bequests to three sons named as Edward, John and David and to a daughter called Mary but it made no mention of a son called William. Though the evidence is not conclusive, it does seem possible, on the strength of what exists, that David's father was this William James of Ryde.

Very little has been discovered about David's life. On the evidence of where his first three children were baptised, he lived during the early part of his married life in the area of Godshill before settling in Haven Street. It is said that David built the house in Church Lane in Haven Street, which was one of the three terraced dwellings that later became known as the Providence Cottages and which provided a home for several later generations of Jameses.

In his Will, David described himself as a yeoman of Haven Street but apart from a "dwelling house" and garden mentioned in it, he does not seem to have owned any other real estate. Nevertheless, he left a personal estate valued at between £2000 and £2999.

As there was no church in Haven Street until 1852 so David and Elizabeth were buried in the graveyard of Holy Cross Church at Binstead, their parish church. 6,7
David married Elizabeth ———. Elizabeth was born <1737>, died on 23 Apr 1813 8 at age 76, and was buried on 27 Apr 1813 in Holy Cross Church, Binstead, IOW.9
There is no record of David and Elizabeth's marriage in the parish registers of the Isle of Wight and, in view of the fact that Elizabeth was probably a native of Portsea Island, it is possible that they were married in the old (it was rebuilt in the 1880s) St Mary's Church there.
It is quite likely that Elizabeth was a native of Portsea, a small island forming part of what is now Portsmouth, because David's Will contains this statement: "Whereas my late wife Elizabeth James being possessed of certain landed property in Portsea, did under the powers of a certain deed of settlement make a writing purporting to be her Will devising the same upon certain Trusts for me for life and afterwards for our children but previous to her death the property was sold and the purchase money in part distributed among our children and the remainder is now as part of my own property…"

This and the fact that she is buried in the churchyard of Holy Cross Church, Binstead, (her tombstone was still readable in 2002) are all that has been discovered about her.
Children from this marriage were:
2 F i. Jane James 10,11,12 was baptised on 29 Apr 1759 in Godshill, IOW.11
Jane married Richard Gale.12
3 M ii. William James 10,11 was born in 1761 in Godshill, IOW, was baptised on 3 May 1761 in Godshill, IOW,11 and died in 1841 in Lyndhurst, Hampshire 13 at age 80.
William was a carpenter by trade who for one reason or another left the Isle of Wight and settled at Emery Down, a small village near Lyndhurst in the New Forest. He must have done reasonably well here because he was able to buy a house and when he died his personal estate was valued at somewhere between £450 and £600. 10,14
William married Sarah Peirce 15 <1785>. Sarah died between 1801 and 1809 in Lyndhurst, Hampshire.
William and Sarah had at least four children: Elizabeth (b.1786), Sarah (1787-1861), Mary (b. 1795-1856) and Susannah (1801-1883).
William next married Mary Jones 13,15 <1808>. Mary was born <1778> and died in 1846 in Lyndhurst, Hampshire 13 at age 68.
William and Mary had at least three children that have been identified: Ellen (1810-1874), Mary Ann (1813-1892) and David (1815-1881).
4 F iii. Elizabeth James 11,12 was baptised on 24 Feb 1765 in Godshill, IOW.11
It has not been discovered whether or not Elizabeth was never married but she had an illegitimate son named David by a man called James Alford.
+ 5 M iv. John James was baptised on 4 Aug 1776 in Newchurch, IOW,16 died on 12 Aug 1822 in Haven Street, IOW 17 at age 46, and was buried on 15 Aug 1822 in Holy Cross Church, Binstead, IOW.18



Second Generation
---
5. John James was baptised on 4 Aug 1776 in Newchurch, IOW,16 died on 12 Aug 1822 in Haven Street, IOW 17 at age 46, and was buried on 15 Aug 1822 in Holy Cross Church, Binstead, IOW.18
John may have been born in Haven Street but it seems that he spent most of his married life living in Ryde as several of his children are recorded as being born there. Though John inherited his father's house in Haven Street, he did not have possession of it very long as he only survived his father by about seven months. In view of this inheritance, it is surprising that no Will of his has been discovered.

There is also something of a mystery about John's occupation. His grandson, William John James (1852-1921) writes that he was a wheelwright but the baptismal records of four of his children describe him as a labourer or a seaman/mariner. 20
John married Mary Jennings in 1805 in Newchurch, IOW.19 Mary was born <1787> in Romsey, Hampshire and died <1855> in Binstead, IOW 21 at age 68.
After John died, Mary married Robert Harwood, a native of Haven Street, who in later years lived in Pier Cottage at Binstead. It seems probable that Robert was a widower as the 1841 census shows a Harwood daughter (aged c. 20)* and a Harwood son (aged c. 15) living with him and Mary. The daughter must have been from an earlier marriage but the son may have been Mary and Robert's child.

Interestingly enough, the Harwood household at the time of the 1841 census also included Mary's son Daniel and her granddaughter Emma (the youngest child of her late son and daughter-in-law, David and Ann).

*Jane (1819-1852). 15,22
All the children of this marriage mentioned later, with the possible exception of Elizabeth, are recorded in the Newchurch parish register of baptisms as being the offspring of a John and Mary James. The entries for James, William, Jane and Daniel give their parents' place of residence as Ryde and later censuses confirmed that place of birth for all of them that survived long enough to have it recorded. However, as mentioned earlier, John's occupation as that of a labourer and then a seaman/mariner is in conflict with later family claims that he was a wheelwright, so it is probably necessary given the number of branches of the James family in the Isle of Wight, not to treat the list of John and Mary's children below as completely reliable.

Children from this marriage were:
6 M i. David James 10 was baptised on 3 Oct 1806 in Newchurch, IOW 23 and was buried on 29 Oct 1836 in Calbourne, IOW.24
According to his two daughter's baptismal records, David was a shoemaker in a small village called Shalfleet about 2 miles north of Calbourne where he and Ann chose to be buried. Perhaps, they had lived in both villages.
David married Ann Morey in 1832 in Calbourne, IOW.19 Ann was born <1814> and was buried on 1 Apr 1836 in Calbourne, IOW.25
Tragically, David and Mary died within seven months of each other leaving their three small children orphaned. Their son James was taken into David's brother John's household and grew up following his uncle's trade of bricklaying and masonry. Jane went to live with the family of one of her mother's Morey relations and Emma, who was barely a year old, was brought up by David's mother in the Harwood family.15,22
David and Mary had three children: James (1882-1902), Jane (1833-1889) and Emma (1835-1863).
+ 7 M ii. John James was born on 27 Mar 1809 in Ryde, IOW,26 was baptised on 2 Apr 1809 in Newchurch, IOW,27 died on 17 May 1899 in Haven Street, IOW 28 at age 90, and was buried on 18 May 1899 in St Peters, Haven Street, IOW.29,30
8 M iii. James James 10 was born <1815> and died in 1870 in Isle of Wight 34 at age 55.
James became a tailor and worked in London all his life, seemingly returning to the Isle of Wight sometime in the 1860s. 35
James married Lydia Huckstep,15 daughter of Thomas Huckstep, in 1841 in London.36 Lydia was born in 1816 in St Nicholas-at-Wade, Kent, was baptised on 10 Mar 1816 in St Nicholas-at-Wade, Kent,37 and died in 1869 in Isle of Wight 38 at age 53.
At least two sons have been identified for James and Lydia and they both seem to have died somewhere between 1851 in 1861, as they disappear from sight during that period. They were: William George (b. 1847) and John Cramp (b. 1849). 15,22
9 M iv. William James was baptised on 25 Feb 1816 in Newchurch, IOW 39 and was buried on 9 Mar 1844 in Newchurch, IOW.40
The 1841 census describes William occupation as that of a "shoemaker" in Ryde. Other than that, nothing has been discovered about him. 41
William married Caroline Jackman, daughter of James Jackman, on 10 Aug 1840 in All Saints, Newchurch, IOW 42.,43 Caroline was born <1819> in Bembridge, IOW and died in 1880 in Isle of Wight at age 61.
After William's death, Caroline married Thomas Linter, a carpenter, in 1850 and had several children by him. 15,22
10 F v. Jane James 10 was baptised on 13 Jun 1819 in Newchurch, IOW.44
Jane was in domestic service before she married James 45
Jane married James Albert Jones,10 son of Robert Jones, in 1843 in Isle of Wight.46 James was born <1821> in Ryde, IOW.
James was a tailor by trade having followed in his father's footsteps. He seems to have spent about 30 years in business in Ryde and then he and Jane vanish from the public records. There is no sign of them after these 1871 census in either subsequent censuses or the register of deaths for England and Wales. In view of this, it is quite likely that they chose to emigrate. 47
Jane and James do not seem to have had any children. 15,22
11 F vi. Elizabeth James .15
12 M vii. Daniel James 10 was born in 1822 in Newchurch, IOW, was baptised on 6 Oct 1822 in Newchurch, IOW,48 and died in 1882 in Reigate, Surrey at age 60.
At the time of the 1841 census when he was 18 years old, Daniel was working as an agricultural labourer somewhere in the Binstead area and living in the Harwood household (his mother had remarried) in that village. Sometime during the following 10 years, possibly after he was married in 1845, Daniel got a job working for Thomas Willis Fleming, MP, (1819-1890) who inherited North Stoneham Park and much land there and elsewhere, after his father died in 1844. As a consequence, the 1851 census shows Daniel living at North Stoneham Lodge and working as a "servant"; Rebecca was still in the Isle of Wight at that time. In view of his subsequent employment as a coachman in the Fleming household, it may be that he was working as a groom at that time. Whatever the case may be, by the time of 1861 census, he was described as "Coachman to T. W. Fleming" and he and his family were living in South Stoneham.

By the mid-1860s, Daniel must have left Mr Fleming's employ, as the family were in London when his daughter Emmeline died there in 1866. Certainly, at the time of the 1871 census, he is working there as a coachman and living in Hyde Park Garden Mews. If the Mews house numbers corresponded to the Hyde Park Garden ones in those days, Daniel was the coachman of a Mr Thomas Page, a Deputy Lieutenant, Magistrate and Landowner.

By the time of the 1881 census, Daniel had become an inmate in the Reigate Union Workhouse. It is a bit of a mystery why he is in that institution when Rebecca is living in Marylebone with her married daughter Caroline and her husband, Arthur Astbury. Perhaps, for one reason or another, there was no place for Daniel in a household of his own. He died the following year. 49
Daniel married Rebecca Wheeler,51 daughter of Barnabus Wheeler and Elizabeth Osborn, in 1845 in IOW.50 Rebecca was born in 1824 in Cowes, Isle of Wight, was baptised on 9 Feb 1824 in Whippingham, Isle of Wight,51 and died in 1905 in Reigate, Surrey at age 81.
Rebecca was born at Whippingham on the Isle of Wight. Her father was a mason who had married twice and had a large family of which she was the eldest child of his second marriage. She was not living at home at the time of the 1841 census and it is probable that she was in domestic service by then but she has not been found in that census.

In later years, she supplemented the family income by making dresses, a skill that she passed on to two of her surviving daughters and an occupation that she kept going, no doubt for financial reasons, until not long before her death.
During the 1870s, something unexplained happened to Daniel or to their marriage, which resulted in him ending his days in the Reigate Union Workhouse. It seems odd that Daniel was abandoned by the family in that way; perhaps, they had fallen out with him.

It is interesting to note that Daniel and Rebecca were very much more successful than Daniel's other James relations in finding their daughters positions as servants in well-to-do, upper-class households. It is quite likely that Daniel's position as coachman in similar households, helped with suitable contacts and recommendations. In their daughter Caroline's case, it probably led to a much better marriage, socially, than she might have otherwise achieved.
15,22
Daniel and Rebecca may well have had more children than are shown below, as there is quite a gap between George and Agnes. In part, this may be explained by the fact that Rebecca stayed on the Isle of Wight after they were married as, initially, there was probably no accommodation for a family during Daniel's early years at North Stoneham. It seems that sometime in the early 1850s, possibly after George's death, she joined Daniel at South Stoneham where they lived for a number of years and had their four daughters in relatively quick order.

Five children have been identified with Daniel and Rebecca. They are: George (1846-1851), Agnes Matilda (1852-1929), Caroline Eliza (1854-1919), Emmeline Osborn (1855-1866) and Isabel (1857-1937).

Third Generation
---
7. John James was born on 27 Mar 1809 in Ryde, IOW,26 was baptised on 2 Apr 1809 in Newchurch, IOW,27 died on 17 May 1899 in Haven Street, IOW 28 at age 90, and was buried on 18 May 1899 in St Peters, Haven Street, IOW.29,30

John's grandson Dick Green wrote of him, "... John was a surveyor, road and railway builder", which was slight overstatement his grandfather's occupation.

John did, indeed, spend his working life in the building trade. At various times, he described himself as a bricklayer, a journeyman mason and a contractor. In his later years, he went back to working as a mason and was employed as the sexton at his local church, St Peter's, Haven Street, which was just a couple of hundred yards down the road from where he lived for most of his life.

The early years of John's marriage were spent in the parish of St Helens where he had probably been working when he became involved with Rebecca and where he eventually married her in 1830 when she was five months pregnant with their first child. Sometime in the middle of the 1830s, they moved to the parish of Newchurch and, possibly, to Haven Street; certainly they were living in one of the Providence Cottages by the time of the 1841 census. John and Rebecca spent the rest of their lives in the village. 52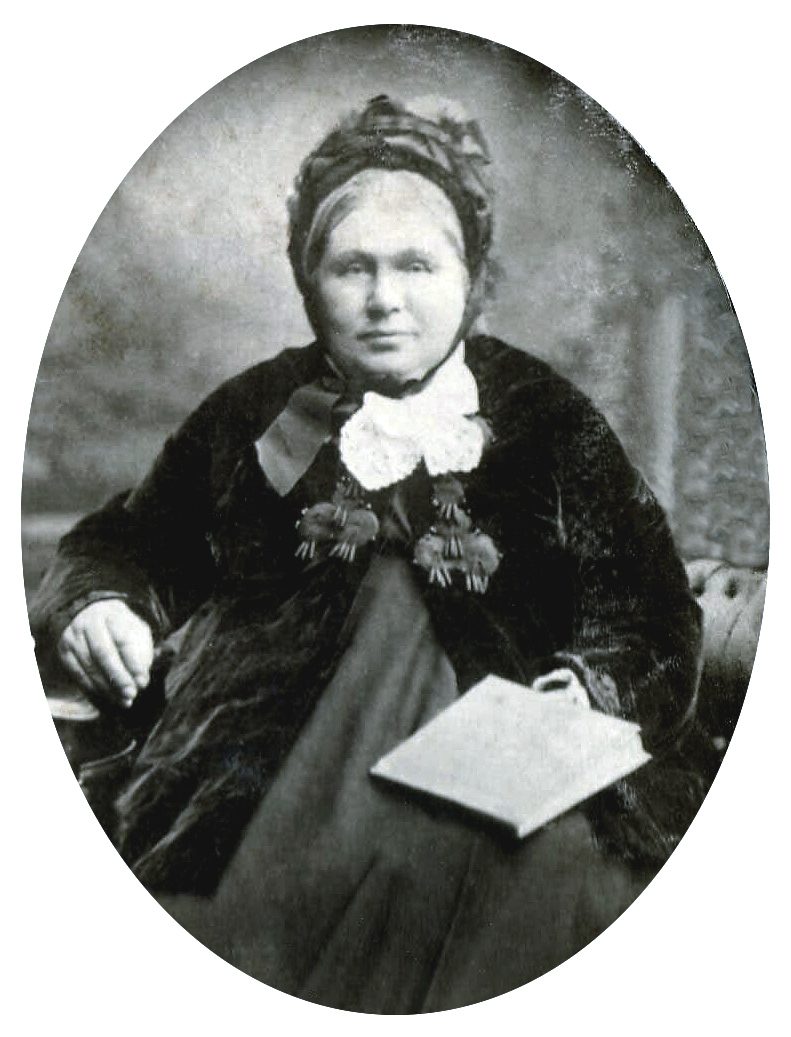 John married Rebecca Hunt, daughter of Thomas Hunt and Sarah Spawl, on 11 Feb 1830 in St Helens, IOW 10,26,31.,32 Rebecca was born on 6 Nov 1811,26 was baptised on 24 Nov 1811 in St Helens, IOW,11 died on 13 May 1899 in Haven Street, IOW 53 at age 87, and was buried on 18 May 1899 in St Peters, Haven Street, IOW.29,30
Rebecca's father Thomas described himself as a mariner the time of the 1841 census but the baptismal records of some of his later children describe him as a fisherman or a labourer. His great-grandson, Dick Green writes of him saying: "Thomas Hunt was 'pressed' and fought in the Navy at Trafalgar Bay on 21st October, 1805. Rebecca, his daughter and my grandmother, showed me some fencing near the church at St Helen's over which Thomas Hunt leapt with a keg of brandy on his back [when fleeing the Excise men]. It is still known as 'Hunt's leap'. He was the strongest, the most daring and the most athletic man in the district and was known as 'Handsome Tom'."

After her marriage to John, Rebecca spent the next 25 years or so bearing and bringing up their many children and it is a credit to her that only two of them died before reaching adulthood. Indeed, most of them inherited her and John's longevity and lived to a good age, the average being c. 73 years.

Sometime after the birth of her last child in 1855, Rebecca started selling poultry at the New Market in Ryde, which opened that year, so in the 1861 census she is described as a market-woman. A couple of years later, there is a newspaper report of her being robbed of a penny (it was apparently all she had in her purse at the time), which refers to her in the following terms: "Mrs. James, a market-woman well known in Ryde to all those who are in the habit of purchasing ducks, fowls, &c., at the trade depôt, met with a startling adventure on Wednesday night last. Mrs. James is a resident of Haven Street, and is in the habit of returning to that place at the conclusion of her daily duties." If an 1878 directory of Ryde is correct, Rebecca was still a market woman towards the end of the 1870s. 54,55,56,57
John and Rebecca did not feature in many newspaper reports during their lives but their longevity and the closeness of their deaths prompted this report from The Isle of Wight Observer:-
HAVEN STREET

DEATH OF MR AND MRS JAMES — One of those extraordinary coincidences which occasionally occur to married couples in advanced life, has taken place in this little village. A very old and respected inhabitant, Mrs James (wife of Mr John James) died at her residence, Providence Cottage, on the 13th inst., at the great age of 89 years. Her husband (whose age is 90), was greatly overcome by the loss of one who had been the partner of his joys and sorrows for over 70 years, and begged them not to hold the funeral too soon, as he would quickly follow his life[wife], and he would like to be buried with her in the same grave. Mr James's prediction proved true, and he, too, died on the 17th. The funeral took place on Thursday, when both bodies were laid to rest in one grave. The funeral was preceded by a service in the village church at 3 p.m. The service was most impressive, and was conducted by the Rev. Thompson (Vicar). Hymn 499 (ancient and modern), was sung in the church, and the "Dead March in Saul" was played whilst the bodies were conveyed from the church, and hymn 401, which was led off by the vicar, was sung at the graveside. The villagers showed every respect to the memory of those they had for so many years been associated with. Amongst the mourners were eight of the children of the deceased, including three sons, the postmasters of Accrington [Spencer James], Devonport [John James] and Taunton [Thomas James].There were also many grand-children.

The family of the late Mr and Mrs James beg to thank the villagers of Haven Street and others for their sympathy, and also for many kindnesses shown to their much-beloved father and mother.

Note:
A very similar newspaper report is recorded by Dick Green but it gives slightly older ages for Rebecca and John that do not tally with their death notices and, though he does not name the newspaper, it was, probably, the Ryde and Isle of Wight News. Also, Dick's transcription, perhaps unsurprisingly, does not mention the three postmasters.

Rebecca's age is given in the The Isle of Wight Observer's report above as 89, her grave stone records it as 88 and if her son, W. J. James, is correct about her date of birth, she was actually only 87. 10,26

Children from this marriage were:
13 M i. Frederick David James was born on 7 Jun 1830,26 was baptised on 13 Jun 1830 in St Helens, IOW,58 and died on 20 Apr 1913 in Isle of Wight 26,59 at age 82.
Dick Green may have met his uncle Frederick but it seems more likely that he heard about him from his other James aunts and uncles. Consequently, when he writes, "… Frederick, the firstborn, was the most charming but beyond being delightful and his wife having six children he made nothing of his life.", Dick was putting a tactful gloss on someone who must have been a considerable embarrassment to his parents and his siblings.

As far as can be determined, Frederick trained as a carpenter, possibly in the London area as that was where he met and married Ann, and he later returned to work as one at Ryde sometime in the latter part of the 1850s.

Things seemed to go wrong for Frederick in the mid-1860s when he stopped working as a carpenter for one reason or another — perhaps because, as he once claimed in court, his eyesight was poor and he could not get work. From then on, there are reports of him driving a mail cart for the Post Office, being a poultry or fish hawker and working as a labourer and as a porter. Regrettably, the reports mostly concern his appearances in court — more often than not in connection with his wife's behaviour (see later) but sometimes his own.

Neither Frederick nor Ann is to be found in 1881 census but reports of their court appearances continue until 1887. From that time onwards, things seem to have settled down a bit between them and at the time of the 1891 census, Frederick was working as an employed cabinetmaker though that job does not seem to have lasted very long. 10 years later, he was lodging with someone in Ryde and describing himself as a widower and a newsagent. As no record of Ann's death has been found between 1891 and 1901, Frederick and she may have simply gone their separate ways. 10,60,61,62,63,64,65,66
Frederick married Ann Feeley, daughter of Charles Feeley, on 14 Sep 1851 in St Marys, Newington, Surrey.67 Ann was born <1835> in Co Cork, Ireland.68
Ann did not admit to any occupation at the time of her marriage to Frederick but it seems likely that she had been a domestic servant somewhere in London when they first met. The 1851 census shows someone of Ann's age and of Irish origin working in a household in Northampton Square, Finsbury, which included four journeyman carpenters and as Frederick was also a carpenter at that time, it is possible that one of these fellow tradesmen brought them together.

In the vernacular of the time, Ann was "ill educated" and was only able to sign the register with "her mark" at the time of her marriage. Her father was recorded then as being dead so there is no indication of what he did but it seems likely that Ann came from a poor, Irish background.

For a period of about 10 years from the middle of the 1870s, Ann was regularly mentioned in the local press on account of her drunkenness or her appeals for protection from Frederick's alleged violence (see below). So frequently was she up before the Bench that a local newspaper came to report her appearances under headlines such as "MRS. JAMES AGAIN!" or on the occasion of her eighth appearance, as "AN OLD OFFENDER IN TROUBLE AGAIN". That eighth appearance, incidentally, that landed her with a sentence of 21 days' hard labour. After that, no doubt, chastening experience, Ann's drunkenness, at least in public, seems to have diminished somewhat.

A bit of a mystery surrounds Ann's later years. Frederick described himself as a widower at the time of the 1901 Census. However, despite the lack of any mention of Ann in that census, there is no record of anyone of her name and approximate age (her exact year of birth has not been determined) dying in the Isle of Wight between 1891 (she appears in the census that year) and 1901 though it is possible that she died elsewhere. 69,70,71,72,73
Frederick and Ann's marriage, at least insofar as it was reported in the local press, went through a very stormy period from the mid-1870s to the mid-1880s. Ann's and to a lesser extent Frederick's propensity to get drunk and cause a disturbance in the town landed them both in trouble with the authorities and, moreover, Ann seems to have suffered grievously from time to time at Frederick's hand, which also brought them up in front of the Bench.

The following newspaper reports, which come from the Isle of Wight Observer, give an indication of their turbulent relationship. The first is from 1876 and the second from 1881 but there are several others in a similar vein. As can be detected from the first piece, the police were not entirely sympathetic with Ann's claims.
A RATHER DEAR LODGING.
Ann James, of Newport-street, was charged with disorderly conduct on the previous evening. Superintendent Burt deposed that about 11 o'clock the previous night prisoner came to the station and rang the bell violently. He opened the door and asked her what she wanted, and she said she wanted to be locked up, as she was determined not to go to the house where her husband was. He persuaded her to go home, and told her that her husband should not interfere with her. She went away, and about ten minutes afterwards he heard her calling her husband all sorts of bad names. About 25 minutes to 12 she came to the station again, and rang the bell violently, and said she was determined to have a night's lodging. He then locked her up. The prisoner did not appear drunk though she had been drinking and was very excited. The prisoner, in defence, said she would not go home to her husband, who ill treated her, and she wanted to get a separation from him. He was always at the public house. The Mayor said that the prisoner must pay a fine of 10s., and costs, in default seven days.
Prisoner.- Well, I must go to gaol. I shall be safe there. When I come out will your honour try and get me separated from my husband ?
The Mayor.- That I have nothing to do with.


DRUNK AND DISORDERLY
Ann James, of Warwick-street, was charged with a similar offence. - P.C. Taylor deposed that on Tuesday, the 15th inst, the defendant came to him and said her husband had threatened to murder her and was drunk. He told her her husband had just passed him and appeared to be all right. Shortly afterwards the defendant followed behind him making use of most filthy and disgusting language. She afterwards went indoors, and hearing her shriek 'Murder" and "Police" he watched through the window. Saw her husband sitting quite away from her and not touching her at all. She continued to scream, and after watching her for a few minutes he went inside. She said, "Oh, policeman, you ought to have been here before. He has been dragging me round the room by the hair of my head." He told her he had been watching through the window and it was nothing of the sort.- fined 5s., and costs ; in default, 7 days' imprisonment.

Frederick and Ann had six children: Charles (b. 1852), Matilda (b. 1854), John known as Jack (b. 1858), Mary Ann (b. 1859), Frederick (b. 1863) and James (b. 1867). It has not been discovered how many of these children survived to adulthood but it is known that Frederick and James were in trouble with the law in 1876 for stealing some fruit and nuts from a shop, which led to Frederick serving a term of imprisonment and to James being sent to an Industrial School at Winchester. Subsequently, Frederick seems to have been sent to a naval training ship at Portsmouth. 10,26
14 F ii. Elizabeth James was born on 19 Jan 1832 in St Helens, IOW,26 was baptised on 12 Feb 1832 in St Helens, IOW,74 and died in 1859 in Isle of Wight 26 at age 27. The cause of her death was childbirth.26
Prior to her marriage to William, Elizabeth worked as a lady's maid in the house of a Mr and Mrs Lyon who lived in Lambeth. Mr Lyon was a retired Lighterman and was presumably moderately well off as Elizabeth was the most junior of three servants.75
Elizabeth married William Harwood,77 son of James Harwood and Mary, on 23 Dec 1852 in Chapel of St Thomas, Ryde, IOW.76 William was born <1831> in Havenstreet, IOW.

William was brought up in Haven Street and it is likely that he was well-known to the James family. He was an apprentice carpenter at the time of the 1851 census working with a master builder who also lived in Haven Street and his father and elder brother James were woodmen who dealt commercially in wood cut from coppices. William and Elizabeth must have married soon after he completed his apprenticeship.

Rather surprisingly, there is no trace of William after Elizabeth's death in 1859; he and his daughter Emma completely disappear from subsequent censuses.78
As far as has been discovered, William and Elizabeth only had one child, a daughter Emma (b. 1853). 10,26
15 F iii. Sarah Matilda James was born on 19 Sep 1833 in St Helens, IOW,26 was baptised on 27 Oct 1833 in St Helens, IOW,79 and was buried on 18 Aug 1850 in St Thomas, Ryde, IOW.80 The cause of her death was pneumonia.26
16 F iv. Rebecca James was born on 3 May 1835 in St Helens, IOW,26 was baptised on 31 May 1835 in St Helens, IOW,81 and was buried on 29 Jan 1837 in Newchurch, IOW.26,82 The cause of her death was teething [?].26
17 F v. Ellen Anne James was born on 3 Oct 1836,26 was baptised on 2 Jan 1837 in Newchurch, IOW,83 and died on 18 Oct 1908 in Toronto, Canada 26,84 at age 72.
Dick Green says of his Aunt Ellen that she married a man called Waterson and had at least two boys and two girls, one of whom married a physician and the other a circuit Judge in Toronto. Of William, he says, "Waterson was a kinsman of Sir Tatton Sykes and was brought up at Sledmere [a stately home and estate situated near the village of that name in Yorkshire]. He was a fine horseman and was on the staff of a leading Toronto newspaper. I think he was advertising editor of 'The Globe '." Dick seems to have been correct about Ellen's daughters but his information about William seems to be doubtful in the light of historical records*.

* There were only two people in Yorkshire named William Waterson at the time of the 1841 census of the right age to be Ellen's husband. One is the son of Robert Waterson a grocer in Birsall, the other is a stray boy living with an agricultural labourer and his wife in a village called Thornton, not far from Bradford. Neither of these young men appears in the 1851 census. Interestingly, Birsall is about 6 miles from the village of Sledmere. 10,85
Ellen married William Waterson. William was born 17 Apr 1833 86 and died on 1 Nov 1914 in Toronto, Canada 87 at age 81.
The death certificate of William's son Robert states that William was a native of Havenstreet in the Isle of Wight but nothing has been found to confirm that and William's date of birth comes from his record in the Canadian census 1901.

At the time of the Canadian census in 1861, William described his occupation as a bricklayer but in the following three censuses, he is recorded as an engineer. Later at the time of the 1901 Census, he is described as a clerk in an office, having, presumably, having taken a more sedentary occupation on account of his age.

During his last few years, after Ellen died, William lived with his married daughter Nellie and her family. 88
Rather surprisingly, there is no record of Ellen and William's marriage in the statutory records of England and Wales nor is there a record of the birth of their first child, Frederick, though subsequent censuses in Canada show him as having been born in England.

It seems that they emigrated to Canada in c. 1860 where they settled in Toronto, remaining there for the rest of their lives. William does not seem to have ever returned to England but Ellen and their daughter Elizabeth did visit the old country in the summer of 1904.

Ellen and William had at least seven children: Frederick William (b. in England, 1859), Amelia Theresa (b. 1861 in Canada and who married an attorney), Robert Cornell (1864-1947), Nellie Gertrude (b. 1872), Eva Maude Rebecca (1876-1876), Elizabeth Jeannett (b. 1877) and Mabel Rebecca (b. 1880 who married a doctor).
10,26
18 F vi. Jeannette James was born on 10 May 1838,26 was baptised on 15 Jun 1838 in Newchurch, IOW,89 died on 18 Jun 1874 in Haven Street, IOW 90 at age 36, and was buried on 22 Jun 1874 in St Peters, Haven Street, IOW.91,92 The cause of her death was pneumonia.26
It is very likely that Jeannette went into domestic service as soon as she left school. Certainly, when she married Edwin a few years later, she gave her occupation as a servant. Her marriage to Edwin must have drawn her into his work because, during the next 10 years or so, she is reported as working as a schoolmistress. 93
Jeannette married Edwin William Caws,10,77 son of Alfred Caws and Mary Harriet ———, on 4 Jan 1860 in Holy Trinity, Ryde, IOW.94 William was born in 1838 77 and was baptised on 25 Feb 1838 in St Helens, IOW.95
William's father, so it is said, was at some time the postmaster in Ryde but by the time of the census in 1851, he was describing himself as a baker, as did William when giving his father's occupation on his marriage to Jeannette in 1860.

William had early ambitions to be a schoolmaster and, at least at the beginning, things seem to have gone well for his career as one. Not long after his marriage, he was the master at St Peter's School in Haven Street, an appointment that may have brought him and Jeannette to each other's notice.

During the next 14 years or so, he held similar appointments at various national schools around the country. First, at West Farley in Kent, then at Hugglescote in Leicestershire, then Tamworth and later at South Ockenden in Leicestershire. It was from this last school that he applied for the position of master at a new one at Butlock Heath near Eastleigh just shortly before Jeannette died in June 1874 but he did not get the job.

At some stage, perhaps not long after Jeannette's sudden death, he must have left South Ockenden and it has not been discovered whether he was successful in getting another appointment.

Five years later, things were not going at all well for William and he was in trouble with the law for stealing a pair of trousers from a clothesline after an afternoons drinking at a pub in Bembridge. He pleaded guilty to that escapade but it still earned him a sentence of seven days hard labour.

The following year, he was charged with breaking into a pub in Ryde. He claimed he did not intend to steal anything; he simply wanted some shelter as he had been locked out of his lodgings by his landlady. By this stage, he seems to have fallen on hard times because his employment was cleaning shoes at Ryde College. The Ryde magistrates sent him for trial at the August Assizes at Winchester in 1880 where he was convicted and sentenced to one year's imprisonment. This explains why he was in Winchester Prison at the time of the 1881 census the following April.

It is not clear what happened to William and Jeannette's surviving children immediately following Jeannette's death but they may have gone their separate ways; Edwin, junior, to become a shop assistant, Lucia to train as an elementary school teacher and Alice to keep house for others.

William disappears completely from the statutory records of England and Wales from 1881 onwards as, interestingly enough, does Edwin. They both may have emigrated but if they did, it was not to Canada as was the case, at different times, with Alice and Lucia. 96,97,98,99,100
Jeannette and Edwin had four children: Jannette Mary (1860-1861), Edward William (b. 1862), Alice Maud Mary (b. 1863) and Henrietta Lucia (1865-1951). Edwin, like his father, disappears from sight after the 1881 census and Alice and Lucia emigrated to Canada, separately. Alice married and settled in Toronto. Lucia also married but settled in Manitoba. Many years later, Lucia and her husband returned to live in the Isle of Wight. 10,26
19 M vii. Daniel Thomas James was born on 2 Apr 1840 in Newchurch, IOW,26 was baptised on 27 Sep 1840 in Newchurch, IOW,101 and died on 7 Jan 1924 in Oban House, Taunton, Somerset 102 at age 83.
If a newspaper report about Thomas when he left Scarborough in 1892 is correct — and he probably provided the information himself — he started his career in the postal service straight after leaving school in c. 1854. He would have been about 14 years old at the time. Doubtless, he had a modest role at first but by the time of the 1861 census, he was describing himself as "postmaster's assistant" and as he was living in Ryde, he would have been working at that Post Office in the town. Postmaster at that time was a Mr. Philip Hellyer, who was also the manager of the Hampshire Banking Company's Ryde's branch.

As things turned out, Thomas's employment with the Post Office and the success he made of it, started an important trend for the James family, which led to his two younger brothers, two of his sons and a number of his nephews and nieces being similarly employed. Working for the Post Office broke the James family's link with the building trade and allowed those that did so to improve, greatly, their social position. Strangely, given this situation, Thomas and his brothers and some of the next generation were surprisingly coy at times about their employment, preferring it to be thought that they worked for the Civil Service, which of course they did in fact do, as the Post Office was a government department until 1969.

In July 1863, Thomas secured an appointment as a clerk at the Post Office in Devonport, Plymouth. He must have done well there because he rose to be Chief Clerk and in 1869, accepted the appointment of postmaster at Newton Abbot. He stayed there until 1886 and he was clearly well liked in the town because on his departure enough money was raised by public subscription to present him with a testimonial gold watch and chain.

After Newton Abbot, Thomas was the postmaster at Scarborough until 1892 when he transferred to Taunton. Sadly for him, Jane died during their years at Scarborough. He was at Taunton for only four years before being promoted to postmaster at York; his final appointment, which ended with his retirement in March 1905.

On retirement, Thomas went back to live in Taunton with his sister Mary Bignell who kept a boarding house there. He died in 1924. 10,103,104,105,106,107,108,109

When Thomas left Scarborough, he gave a dinner in absentia for the staff of the Post Office there. The Yorkshire Herald gave this report of that celebration:
COMPLIMENTARY DINNER TO POST OFFICE OFFICIALS. - An interesting gathering took place on Friday at the Imperial Hotel. It was a farewell dinner, given by Mr. D. T. James, the late postmaster, on his leaving Scarbro', to become postmaster at Taunton. Some 125 members of the staff and guests sat down to an excellent dinner. Mr. E. B. Railton, the new postmaster, occupied the chair, supported on the right by Dr. Everley Taylor, the medical officer to the department, and on the left by Dr. Scarth. On the removal of the cloth the chairman called upon, Mr. Dobson to read a telegram he had received from Mr. James. It was as follows:— Taunton, 6.30. Postmaster and staff, Scarbro'. May all blessings attend you tonight. Am with you in spirit. Taunton.' A message was wired back to Mr. James that the company met at the Imperial sent him their greetings; that his health had just been drunk with musical honours; and that the gathering was a brilliant success. Mr. Railton then proposed the first toast. "The Queen." Dr. Everley Taylor proposed "' The Service," and Mr. T. D. James.. They knew fullwell, he said, to what a condition of efficiency the local branch had reached from very small beginnings, - from one postman to a hundred at the present time. He was sure it was right to couple with the toast the health of their late postmaster, Mr. James. He had remained long enough with them to cast his roots very, very deep in the hearts of the officials. When he joined them they recognised that he was a strict disciplinarian, and expected everyone to work hard. He was a man who in all things endeavoured to do the right. They heartily welcomed his successor. Mr. Railton came to them with strong testimonials, and he was a north countryman. They appreciated him the more for that. He hoped the new postmaster would remain many years with them. (Applause.) Mr. Railton, in responding, said the service had been well spoken of by their medical officer. He could truly say that there a no department in the word [world] that equalled the Post Office Service of England. (Applause.) With regard to Mr. James, whom he knew personally, he was a man of sterling character, and behind what appeared sternness a warm heart beat. Personally he should try and go on the lines Mr. James had done. He would do everything in his power, God helping him, to make their lives as comfortable as he could. (Loud applause.) He took the present opportunity of saying to them in an ex officio way that, if anything at any time happened which some of them could not understand, let them come and see him. He should he glad to help them in any way. Dr. Taylor had alluded to their salaries. He thought the present Postmaster-General dealt very fairly with them. Still they were not all paid as they should he. (Hear, hear.) The toasts of "The Chairman," " The Ladies," and " The Press " followed. A musical programme was then submitted, including sixteen items. It was thoroughly appreciated, and the company did not separate till an early hour this morning.
Thomas married Jane Harriet Beazley, daughter of William Beazley and Eliza Williams, on 31 Jul 1864 in St Andrew, Plymouth.110 Jane was born on 16 Jun 1841 in Ryde, IOW,111 was baptised on 20 Jun 1841 in Newchurch, IOW,112 and died in 1889 in Scarborough, North Yorkshire 113 at age 48.
Jane's father was a stationer and newsagent in Ryde with a shop next door to Jane's paternal grandparents who ran a bakery in the High Street. She was one of many daughters in the family and it seems that she was sent off to London to learn to be a dressmaker immediately after she finished school because she was working as an apprentice in an establishment in Mayfair at the time the 1861 census. That apprenticeship may have finished by 1862, as it was in that year that she became romantically involved with Thomas and Thomas, junior, was conceived.
114
Thomas and Jane eventually got married when Jane was five months pregnant with their second child. It is not clear why they waited so long, perhaps it was to do with Thomas obtaining a better-paid Post Office position.

As far as has been discovered, they only had three children: Thomas (b. 1863), Frederick (1864-1938) and Newton (1879-1970). Thomas and Frederick both had careers in the Post Office and retired as postmasters and Newton became a dental surgeon.

Thomas, senior, was the first in his family to educate his children at a public school. All three boys went to the newly founded Cranleigh School in Surrey. Thomas and Frederick were there only for a short time in 1879 but Newton was there from 1892 to 1897 after which he became a dental apprentice with his uncle Eli Elkins Green in Sunderland before going on to qualify at Guy's Hospital in London.
10,26
20 F viii. Priscilla James was born on 22 Feb 1842 in Haven Street, IOW,26 was baptised on 29 May 1842 in Newchurch, IOW,115 died on 12 Mar 1936 in Providence Cottage, Haven Street, IOW 116 at age 94, and was buried on 14 Mar 1936 in St Peters, Haven Street, IOW.117
Very little has been discovered about Priscilla before she married William. The 1861 census shows her living in lodgings at Sandown, Isle of Wight, but does not give her occupation but it is quite likely that she was in some form of domestic service. Given that William appears to have had no connection with the Island, it is intriguing to speculate how they came to meet.

After William died, Priscilla took a job as Cook to an elderly couple in Ryde while her two children were looked after by her parents in Haven Street. Eventually, she must have secured some form of widow's pension from the Army because in later years the censuses give her as living on her own means.

Priscilla lived to a remarkably good age and died in 1934, in the house where she had been born. The Isle Of Wight County Press gave this report of her death: 118
HAVENSTREET.
DEATH. — The death occurred on Thursday week at Providence Cottage, Church-lane, of Mrs. Priscilla Harding, at the advanced age of 94. She was a daughter of the late Mr. John James, the first village sexton and verger, who held that position for 30 years. The deceased celebrated her birthday on February 23rd. She was one of three sisters, all over 85 years of age, who lived together until a few months ago, when the youngest, Mrs. Bignell, passed away. She is survived by Miss Lucy James, who will be 90 on May 23rd, a son, and daughter (Mrs. Hoult). She was born at Havenstreet in a little thatched cottage, which stood on the site of their present residence for 450 years. The family is noteworthy for its longevity. Their parents died at the age of 90 and 88 respectively, and two of their brothers were 79 and 83 when they died. Mrs. Harding was a kindly soul and remained wonderfully alert and active almost to the last. She was buried at St. Peter's Churchyard on Saturday, when the Rev. L. Argyle (vicar) officiated. The mourners were Mr. W. Harding (son), Mrs. Hoult (daughter), Mrs. K. Hudson (niece), Mr. G. Richards and Mr. Gale (nephews), Mrs. Earwicker. Mr. Herrington, and Mrs. F. Leal.
Priscilla married Corporal William Harding, RA, son of John Harding, on 22 Aug 1866 in The Register Office, Isle of Wight.119 William was born <1837> in Woolwich, Kent and died in 1880 in Alverstoke, Southhampton, England 120 at age 43.
William's parents are elusive and but it seems he was born in Woolwich and that his father was a blacksmith. It may also be that William grew up in Woolwich, though there is no trace of his family there at time of the 1841 census, because it was at the Royal Artillery Barracks there that William became a boy soldier with the Royal Artillery Regiment soon after leaving school.

William progressed from a drummer boy to a private and then to corporal during his years with the Royal Artillery. He died young at the age of 46.
121,122
Priscilla and William had two children: Catherine Elizabeth (1867-1942) and William Henry (b. 1869) who retired as head postmaster at Ascot, Berkshire, in September 1930. 10,26
21 M ix. Spencer James was born on 29 Dec 1843 in Newchurch, IOW,26 was baptised on 11 Jan 1844 in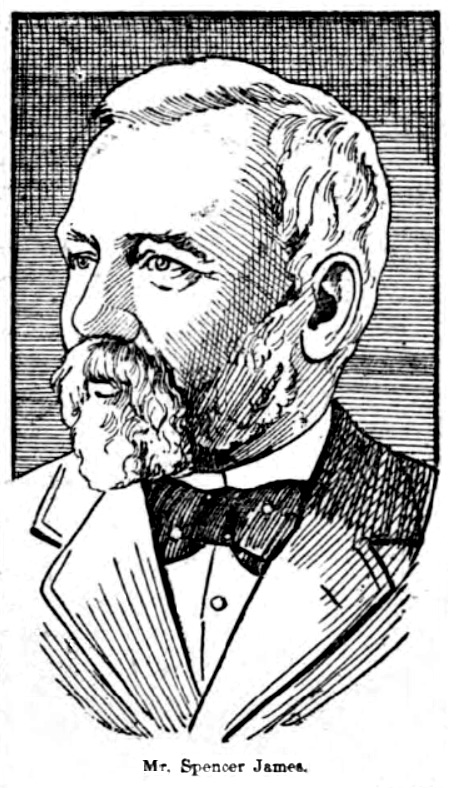 Newchurch, IOW,123 died on 25 Jan 1908 in Providence Cottage, Haven Street, IOW 124 at age 64, and was buried on 29 Jan 1908 in St Peters, Haven Street, IOW.125
Spencer had early leanings towards a career in teaching but his brother Thomas's success at the Post Office at Ryde must have diverted him and he was taken on there more or less at the time that Thomas left to become a clerk at Devonport. As the following report mentions, he did teach for a short time when ill health forced him to give up a Post Office appointment at Hull. That information is taken from an interview he gave to a reporter on the Lancashire Evening Post when he retired in 1903. "It was 40 years on the first of May last since Mr. James entered the service of the Post Office. He was then 19 years of age, and went into the postmaster's office at Ryde as clerk. About this time stamps were beginning to be perforated, and Mr. James remembers how they used to get supplied unperforated, in which case they had to cut them out of the sheet with a pair of scissors as they were sold. The duties were arduous and the pay small in the sixties. The junior clerks had to turn in at five o'clock in the morning, and were kept at it until half-past nine at night; all for ten shillings per week.
In 1865 Mr. James was removed to the chief office at Hull, but he only remained there until December of the same year, when he left the service on account of ill-health. He had the offer of a better place at Exeter when a vacancy arose, and during the intervening months he acted as schoolmaster near Chatham."

A more extensive report of Spencer's career appeared in Trewman's Exeter Flying Post in 1894:
MR. SPENCER JAMES.
PROMOTED TO THE ACCRINGTON POSTMASTERSHIP.
Official intimation was received at Exeter on Thursday that Mr Spencer James, Superintendent of the Exeter Post Office, has been appointed to the office of Postmaster of Accrington. Mr James has been connected with the Exeter Office for about twenty-seven years, and the intimate knowledge which he possesses of all the details of Post Office work makes him peculiarly fitted for the position he has been called upon to fill; in fact, it is recognised on all hands that a better man could not have been selected and the inhabitants of Accrington may rest satisfied that the interests of their town will be very carefully considered, and that where improvements and extensions of postal facilities can be made no effort will be wanting on the part of Mr James to get them introduced. Mr James, who is a brother of the postmasters of Devonport and Taunton, entered the Post Office as a clerk at Ryde, Isle of Wight, in 1863. In 1865 he was appointed clerk at Hull, and in June of the following year was transferred to Exeter. In 1870 he was specially employed by the Surveyor of the Western district in fitting up numerous Post Offices in Devonshire for the reception of the telegraphs, which were transferred to the Government in February of that year. Mr James has also acted as Postmaster of Barnstaple, Ilfracombe, and Wellington, and on the introduction of the Parcel Post in 1853, he had sole charge of the arrangements at Exeter, and performed this responsible duty in such a highly satisfactory manner that the Postmaster General, with the consent of the Treasury, presented him with a very handsome gratuity in March of the following year. We believe that the selection of Mr James will be received with general satisfaction, not only in Accrington, but by those who having had business transactions with him in Exeter are gratified that his undoubted ability and zeal for the service is at length rewarded. A testimony to the abilities of Mr James has afforded by the fact that he has often been selected by the Secretary of the G.P.O. to carry out special duties in the Western district. He was also entrusted with the duty of superintending the fitting up of the new Post Office in High street. We believe that this is the first instance in which a postal clerk has been promoted to a postmastership from the Exeter office. We might mention, as shewing [sic] the importance of the promotion, that Accrington is an important commercial and railway centre in Lancashire, and a market town for population of 100,000 people.


In view of Spencer's reported success during his time at Exeter, it is a little surprising it was not until he was nearly 51 years old that he was promoted to a postmastership; Thomas was 29 years old when he got his first appointment and John was 38. It may be that Exeter, being the headquarters of the Post Office's Western district, was a more important place in the Post Office's eyes than Newton Abbot or Devonport (Thomas's and John's first appointments) and being superintendent there was thus a more substantial role than being a postmaster at a small town (there is, incidentally, a hint that Spencer's salary did not increase very much on his appointment to Accrington). However, there is also a feeling when one reads the newspaper reports about Spencer's service at Exeter, and, indeed, his own remarks (see below) that he was a hard man to work with and had made some enemies among the Post Office staff at Exeter.

Spencer's attitude to his job is reflected in a letter that he wrote to an old colleague at Exeter shortly before leaving, the text of which was subsequently published in the Western Times. In that letter, Spencer says, "Well, I have now spent just upon 28 years in Devonshire and have visited officially nearly every part and am pleased to say that during that time I have never had an unkind word said to my face by any one of the public; in fact I have met with every kindness although you must know that an official life is something like a policeman's - not always a 'happy one.' But with a staff of men of nearly 150 to affirm they are all angels would, as the youngsters say, be telling a 'wicked story.' I however have tried to do my duty fearlessly, always considering that I am a public servant first and then a brother officer afterwards. Of course in private business life if there is a lazy worthless fellow you say to him 'Take boots and slide,' but under Government it seems to be 'Slide on till you fall.'"

Whatever the feelings of some of his colleagues at Exeter, Spencer was presented by them with an 18-carat gold watch and chain on his departure for Accrington. Also, his removal from the city prompted the Exeter Rovers' Cycling Club, of which he was one of the vice presidents, to give him a gold ring in recognition of their appreciation for his efforts on behalf of the Club — over the years, he had been a keen member of the Exeter cycling fraternity.

Spencer's eight-year postmastership at Accrington appears to have been successful. The Lancashire Evening Post interview referred to earlier mentions among other things these achievements: "The improvements at Accrington during the eight years Mr. James has had charge of affairs have been many and various. The office is now kept open another hour for telegrams, and later and more frequent collections and despatches have been instituted. The time for posting Sundays has been extended, and the office is open for two hours for general business the evening. Six now sub-offices have been opened, and about 16 letter boxes fixed in various parts of the district. But the greatest development has been in the Post Office Savings Bank. When Mr. James came to Accrington there were about 6,000 depositors as result of 30 years' efforts. Mr. James pushed this department, so much so there are now 19,500 depositors. This development has gone in many cases at the expense of the holiday clubs, for Mr. James made it his first effort to popularise the bank amongst artisans and operatives." The reporter, also, says this of Spencer, "… amongst the many distinctions he can claim is that of obtaining more full postmasterships for his assistants in Accrington than have been sent out of any office of a like in the whole service." The report then lists five members of his staff who became postmasters.

Spencer retired at the end of May in 1903. Two months earlier, perhaps to celebrate his retirement but more likely to ensure its comfort, he got married again to a woman, 27 years or so his junior. She was Laura Darby, his younger son's sister-in-law. Spencer and Laura then settled in Havenstreet where he saw out his life, dying there at Providence Cottage in January 1908. 126,127,128,129,130,131
Spencer married Mary Jane Spencer, daughter of George Spencer and Mary Ann Wilkins, on 14 May 1864 in Alverstoke, Southhampton, England.132 Mary was born on 13 Apr 1848 in Whitechapel, Middlesex 133,134 and died in 1901 in Isle of Wight 136 at age 53.
Mary's father worked in the cork trade for most of his life though at the time of her birth he appears to have been employed as a butcher in Wapping, very likely in his father-in-law's business. When Mary was about 10 years old, her father moved to Southsea and it must have been while the family was living there that she met Spencer. Possibly, she was in service on the Isle of Wight during the time Spencer was working in the post office at Ryde. Mary's father later settled in Ryde where he set up a successful business as a Cork merchant. 137,138,139
Mary was barely 16 years of age when she married Spencer notwithstanding the entry on their marriage certificate which states that she was of full age (i.e. 21). However, as they were married by Banns it seems likely that she must have had the necessary parental consent.

Spencer and Mary had three children: Spencer Theodore (1865-1929), Mary Louisa (1867-1867) and Thomas William (1868-1947). Both sons joined the Post Office Service initially. Theo ended up as assistant postmaster at Leeds and Thomas's employment in later years has not been discovered. 10,26
Spencer next married Laura Frances Rebecca Darby, daughter of Samuel Henry Darby and Elizabeth Ann Bird Welsman, on 30 Mar 1903 in Millbrook, Southampton.140 Laura was born in 1871 in Exeter, Devon 141 and died on 26 Mar 1956 in Bournemouth, Dorset 142 at age 85.
Laura was born and brought up in Exeter and was later to claim that her father Samuel was an artist. However, according to the 1871 and 1881 censuses he was a "Paper Hanger"; those censuses also report that Laura's mother ran a hand laundry business from home with the help of Laura's aunt. Samuel died in 1881 when Laura was only nine years of age.

Laura's elder sister Elizabeth married Spencer's younger son Thomas in 1890 so Laura would have known Spencer, or at least of him, from about that time. During the 1890s and at the time of the 1911 census, while Spencer was at Accrington, she continued to live at home and work in her mother's laundry business. It is to be presumed that it was only after Spencer's first wife Mary died in the latter part of 1901 that Laura and Spencer became involved with each other. Perhaps, she went to keep house for him and things developed from there.

Laura cannot have had a very easy life after Spencer died but as his widow, she would have been the beneficiary of a portion of his Post Office pension and, probably, the small amount of capital that he left. She did not marry again.
143
22 F x. Lucia James was born on 23 May 1846,144 was baptised on 28 Jun 1846 in Newchurch, IOW,145 died on 21 Aug 1945 10,146 at age 99, and was buried on 25 Aug 1945 in St Peters, Haven Street, IOW.147
General Notes: Lucia was the only one of John and Rebecca's children to reach adulthood and remain single, though she is reputed to have had four proposals of marriage. Moreover, it seems that she did not go into domestic service, which was usual for the James girls on leaving school, or into any other type of job. Instead, she seems to have mostly stayed at home with her parents though it does appear that she helped her younger sister Mary for a while when the latter's children were alive.

Lucia's lack of independence may perhaps be explained by a want of intellect; there is a hint that she was simpleminded. Also, from her forties onwards, as is mentioned below, she suffered from deafness. Her parents, doubtless with the agreement of her siblings, left her the use of Providence Cottage and, presumably, a little money as she managed to survive after their death without employment. Her sister Mary gave some financial help and perhaps others did too. Mary gave her £16 a year* during the years before Mary joined her at Providence Cottage and she left her a legacy of £100, which, interestingly enough was to be paid at the rate of six shillings per week. Lucia outlived Mary by 11 years so the £100 had all been paid out long before she died.

Because of her great age, Lucia's death was of some interest locally and the Isle of Wight County Press carried this report of it:-
HAVENSTREET.
Almost a Centenarian. - Miss Lucia James, the last member of a family associated with Havenstreet for generations and noteworthy for their longevity, died on Wednesday week at Providence Cottage, Church-lane. She had reached the great age of 99 years and four months and had lived all her life in the same house, which was built by her father**, Mr. John James. One of a family of 23***, she had living with her, until their passing a few years ago, two sisters. Mrs. Bigwell [sic] and Mrs. Harding both octogenarians, and the three were remarkably well preserved and alert. Although Miss James retained her mental faculties almost until the end, she had been bedridden for a period. She had suffered from deafness for some years. Miss James had vivid memories of her younger days and would recall that on two occasions Queen Victoria visited the family. She was very proud of the fact that the Queen twice shook hands with her. Two of her brothers gained prominence in the Post Office, Mr. D. T. James being post-master at York and Mr. John James holding a similar position at Southampton and receiving the O.B.E. in recognition of his services. Miss James possessed a great affection for little children and until a few years ago frequently, entertained them in her garden. She was also devoted to animals. She was a kind and hospitable old lady and enjoyed the affectionate regard of the village. The funeral service took place on Saturday at the Parish Church.

Lucia was interred in the churchyard of St Peter's Church where her parents and many of her siblings lay buried.

* Mary mentions this figure in a letter she wrote to her nephew Dick Green in May 1913, setting out how she lived on £200 pa.

** Providence Cottage is believed to have been built by Lucia's great-grandfather David James, certainly a dwelling in Havenstreet is mentioned in his Will.

*** It would be interesting to know where this figure of 23 came from. Lucia's nephew Dick Green put John and Rebecca's children at 21 in total so one could say the family numbered 23 but, as Lucia's brother John's records show, she actually had only 13 siblings. 10,26,148,149,150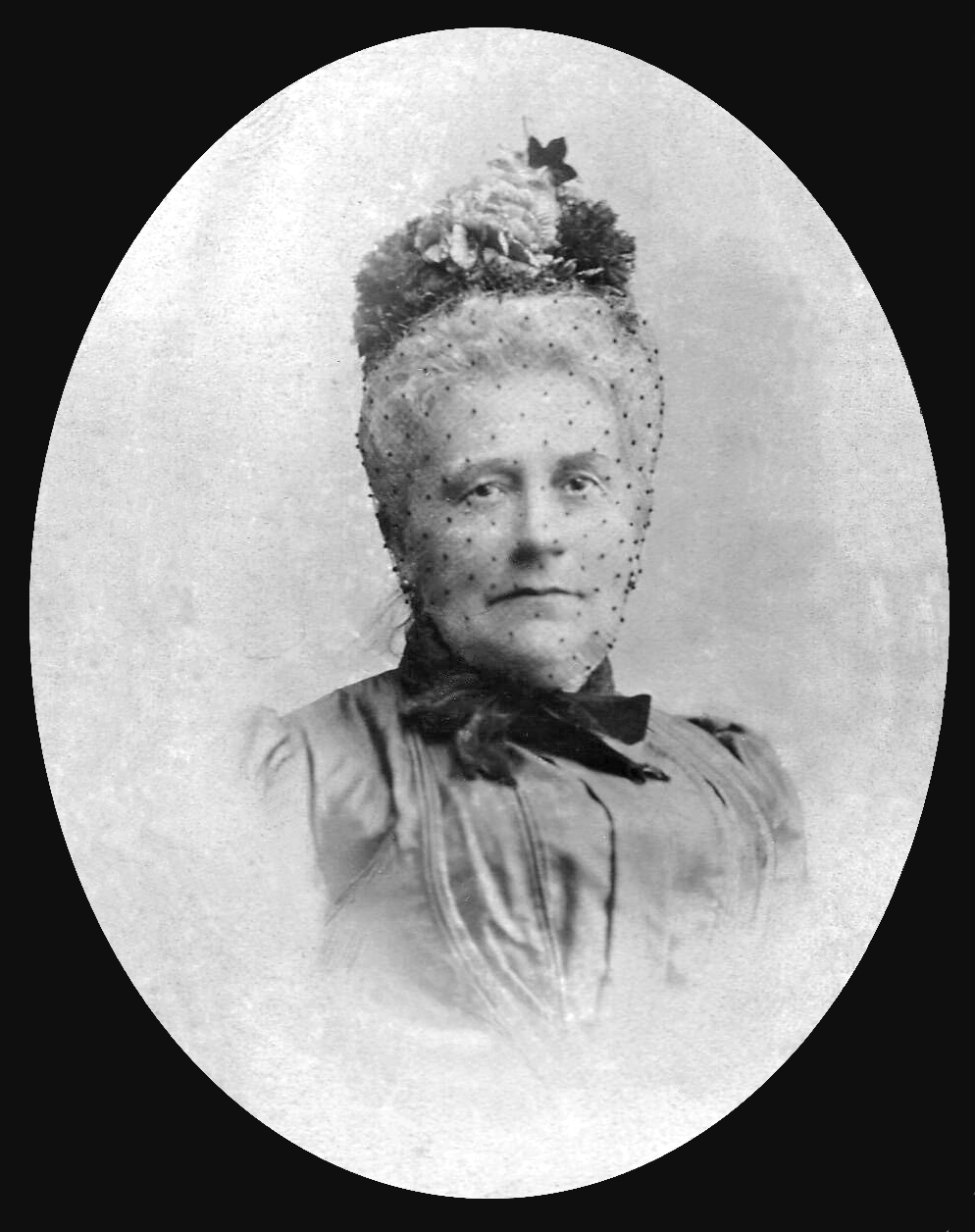 23 F xi. Mary Jane James was born on 10 Mar 1848,26,151 was baptised on 30 Apr 1848 in Chapel of St Thomas, Ryde, IOW,152 died on 22 Nov 1934 in Providence Cottage, Haven Street, IOW 153 at age 86, and was buried on 27 Nov 1934 in St Peters, Haven Street, IOW.154
Mary must have left school and home had quite a young age because by April 1861 she was working as a servant in a boarding house in Ryde and, presumably, she remained in domestic service until she married Robert Bignell in 1869.

Up until the time that her daughter Rebecca died in 1874, Mary's time would have been occupied running the Bignell household and looking after the children but what she did after they were both gone has not been discovered. Certainly, it seems that she and Robert had become estranged by the end of that decade, she becoming involved with the Wyatt family and he joining the constabulary and leaving Ryde for a while.

At some stage during the 1870s, Mary got caught up with Sir Matthew Wyatt and his family. Sir Matthew lived in London but had been a regular visitor to the Isle of Wight since the early years of the 1850s. About 20 years later, he bought the lease of The Castle at Ryde and Mary's nephew, Dick Green, tells of going there for a tea party as a child. Sir Matthew had been a member of the Corps of Gentlemen at Arms (the Sovereign's ceremonial bodyguard) until 1853 and had been given a knighthood on being made the Lieutenant of that corps in 1848. His grandfather was the celebrated architect, James Wyatt.

In view of the Wyatt's social background, it is something of a mystery how Mary got to know the family. However, it is possible that her involvement with it may have come about through Alice McEvatt, Sir Matthew's mistress; Alice became pregnant and was, presumably, packed off to the Isle of Wight to have the baby, which was duly born at "No. 1, The Strand" (i.e. The Castle or one of its lodges), in June 1875 and later registered as Henry Evatt. Three years later, Henry Wyatt, as he became, was baptised at St Peter's Church at Haven Street in September 1878 and it seems likely that Mary had known Alice for some time before that took place. When Alice visited Sir Matthew in London in April 1881, Mary was there with her as an "attendant" while young Henry was being looked after at The Castle by Mary's niece, Alice Caws. Henry, incidentally, later married Ellen James, another of Mary's nieces and, perhaps unsurprisingly, made a career in the Post Office Service.

Sir Matthew married twice but neither of his wives bore him any children. However, as well as Henry, he did have four by a long-term mistress called Louisa Atwill who were acknowledged by him, and also by his father, as his natural children. Of these, only two are of interest to this story, they are Mary (1839-1868) whose daughter Cissie Duncombe married Thomas James, the eldest son of Daniel Thomas James, and Frederick (1845-1889) who became closely involved with Mary Bignell and through her the James family as a whole.

Frederick practised for a number of years as a barrister in Calcutta before returning to England sometime in the early 1880s when his association with Mary seems to have begun. Unsurprisingly, no details of that liaison have survived. However, it seems that it was a close one as he left her an annuity of £200 per annum* and most of his personal effects including his furniture, some of which are today in the possession of the writer. Interestingly, when making his Will in 1887, he appointed Mary's three brothers, Thomas, Spencer and John as his executors.

Frederick had little money of his own but under the terms of his father's Will, he was the beneficiary with his sister Mary of his father's residual estate, which was put at c. £55,000. Mary predeceased her father and it seems that Frederick's entitlement to his share was contested and the three James brothers had several legal battles in the High Court to obtain a proper settlement from Sir Matthew's executor and others. Apart from fulfilling their legal responsibilities, the James brothers were obviously keen to secure the promised legacy for their sister Mary and, happily, they were eventually successful. Interestingly enough, writing to her nephew, Dick Green, in 1913, she outlines in some detail how she manages to live on it and even give some financial support to her sister Lucia.

Some years may have elapsed before Mary got her annuity from Frederick's estate as the legal proceedings took until 1904 to finalise. Whatever the case may be, it seems likely that at some stage she went to keep house for her brother Thomas after his wife died in 1889. Certainly, she with him in Scarborough at the time of the 1891 census and in York at the time of the 1901 Census though her presence at those times does not mean, of course, that she there all the time. However, when Thomas retired in 1905, they settled in Taunton. After Thomas died, it seems that she went to live with her sisters, Priscilla and Lucia, in Havenstreet where she saw out the rest of her life.

A local newspaper gave this report of her death:
HAVENSTREET
OCTOGENARIAN'S DEATH. — Mrs Mary Bicknell, aged 87, died at Providence Cottage on Friday week. She was one of four surviving daughters of the late John James the first village sexton. The ages of her surviving sisters range from 78 to 93. The Rev. L. Argyle (vicar) conducted the funeral at the Parish Church on Tuesday. Her nephews were the mourners. There were also present Mrs. G. Lipcombe, Miss Salmon, and Mr. A. Leal. She was buried beside her brother, Mr Spencer James.
Dick Green was extremely fond of his Aunt Mary and though she did not include him in her Will, she seems, if his papers are correct, to have given him quite a lot of the furniture and knickknacks that she inherited from Frederick Wyatt or acquired elsewhere. It is not known when they passed to him but it is quite likely that it happened when she moved from Taunton to Providence Cottage c. 1924.

In his account of the James family, Dick wrote this about his aunt: "My aunt, Mary, was a wonderful kind woman. She was the hub of the Jameses and kept in touch with every member of the family. No one in the family was in need of a friend during Mary's life. No distance or difficulty was too great for her at any time. She always brought comfort in all she did. She was a saintly woman in that no member of the family was undeserving in her sight. She would have made a sweet matriarch." 10,155,156,157,158,159,160,161,162,163,164,165,166

* About £19,000 in puchasing power in 2013.
Mary married Robert Bignell, son of John Bignell and Charlotte, on 18 May 1869 in The Register Office, Isle of Wight.167 Robert was born <1849> in Wootton Bridge, IOW and died on 19 Nov 1922 in Forest House, Carisbrooke, Isle of Wight 168 at age 73.
When Robert was young, his father was a foreman at a brick and tile works at Wootton Bridge on the Isle of Wight and later he set himself up as a brick manufacturer and merchant there. Robert, followed more or less in his father's footsteps and became a brickmaker in Ryde. He continued in this trade until sometime around the early 1880s when he left the Isle of Wight and took a job as a Police Constable in Plymouth for a time before returning to the Island's and work as a labourer, or at least that is what he was doing in April 1891. It has not been discovered what he did for the next 10 years or so but at some stage in the first decade of the 20th century, Robert went back to making bricks, an occupation that lasted until he died in November 1922. 169Mary and
Mary and Robert marriage seems to have failed after their children's death and eventually they went their separate ways. It was not until the 1911 census that either of them admitted that they were no longer married — Mary said she was a widow and Robert said he was single — neither of which was true. 10,26
Robert had two children: Rebecca Susan (1869-1874) and Allen James Bignell (1872-1873). Rebecca died of pneumonia and Allen, reputedly, as a result of falling off the sea wall between Ryde and Seaview as a toddler.
24 F xii. Henrietta James was born on 11 Sep 1850,26,170 was baptised on 27 Oct 1850 in Chapel of St Thomas, Ryde, IOW,171 and died in 1926 10 at age 76.
Henrietta was in domestic service before marrying Albert and around the time that Albert left the railways and started training as a house painter, she kept a boarding house in Ryde. Otherwise, she was a housewife. 10
Henrietta married Albert Gale, son of Daniel Gale and Sarah Bullock, on 24 Jun 1871 in Chapel of St Thomas, Ryde, IOW.172 Albert was baptised on 4 Apr 1852 in Holy Trinity, Ryde, IOW 173 and died in 1918 in IOW 174 at age 66.
Very little has been discovered about Albert. His early years were spent in Haven Street where his father was a carpenter; later, his family moved to Ryde. While growing up in Haven Street, it appears that Albert had a lucky escape; he fell off the pier whilst fishing at Ryde and was knocked unconscious. He would have drowned if it had not been for the prompt action of a local fisherman.

At the time he married, Albert was working as a telegraph clerk, later he became a railway signalman. By the time that he was 50 years of age, he had given up the railways and had become employed as a house painter. He probably remained working in that trade until he died.
Henrietta and Albert had three children: Arthur William (1872-1944), Henrietta Selina (1874-1940) and Henry Augustus James (1875-1899). Arthur and Henrietta were both married. 10,26
25 M xiii. William John James, O.B.E. was born on 18 Oct 1852 in Newchurch, IOW,26,175 was baptised on 14 Nov 1852 in St Peters, Haven Street, IOW,176 and died on 30 Jan 1921 in Southampton 177 at age 68.
John followed his two older brothers into the Post Office Service and it seems that his first appointment was as a clerk at Newton Abbot. Though his older brother Thomas was not the postmaster there until a year later, it may well be that he helped John get that appointment.

When, nearly 30 years later, John was appointed postmaster at Exeter, a local newspaper gave a very full account of his career over those years, which is reproduced below. John like his two postmaster brothers, seems to have been good at keeping the Press informed about his career.
EXETER NEW POSTMASTER.
HIS PAST SERVICE.
As announced in our columns a few days since, the Postmaster-General has appointed Mr. W. J. James, Postmaster of Oxford, to fill the more important office of Postmaster of Exeter, in succession to Mr. T. S. Fairgray.
Exeter's new Postmaster entered the service of the G.P.O., as clerk at Newton Abbot, on March 3rd, 1868, and on May 14th, 1870, was appointed to a similar position in the Kingston-on-Thames Post-office. While there he was complimented for having acted with energy and judgment in repairing a telegraph wire which crossed the river Thames at Hampton Court. A year later - December, 1871 - the Secretary of the G.P.O.in London personally thanked Mr. James for services rendered in the Metropolis and at Dublin in connexion with the telegraph clerks' strike. On September 29th, 1872, he was transferred to Plymouth a sorting clerk, in the lower section, and a month later was appointed clerk in charge of the Western district. So thoroughly did Mr. James do his work that on February 13th, 1873, he was promoted to a clerkship in the upper section of the sorting department. Promotions then came thick and fast, for, having been appointed to 2nd Class clerkships, 1881, he was unanimously chosen to fill the vacant Superintendent's place on May 24th, 1885. He remained in this position until August, 1890, when he was offered and accepted, the Postmastership of Devonport, at a salary of £325 per annum, in succession to the late Mr. W. C. Kidgell. It was not until October 1st of that year, however, that he took up his duties. During the ten years he remained at Devonport many changes were affected in the postal department, among them being the promptitude in the payment of pensions and the receiving and dispatching of telegrams up to midnight. It will be seen that nearly 30 years' of service has been spent in Devonshire, and Mr. James thus comes to Exeter with a thorough knowledge of the West Country and it needs.
During 1899 the Devonport Office dealt with 9,000,000 letters, 250,000 parcels, 355,000 telegrams, 168,000 money and postal orders and Savings Bank transactions, and the amount of cash handled by them exceeded £300,000. In January, 1900, Mr. James was transferred to Colchester, where he remained one year, and then went to Middlesbrough at a salary of £480 per annum, where he did excellent work until 1904. In July of that year the Postmaster-General appointed him to Oxford, the salary being £525, and he is now relinquishing that post to come to Exeter. On several occasions he has received the special thanks of the Department, as well as the thanks of the various Town Councils and Chambers of Commerce with which he has been brought in contact. Mr. James commences his duties in the city on Saturday.

After hardly two years at Exeter, John was promoted to being Postmaster at Southampton from where he eventually retired in 1918. He was appointed an OBE in the June of that year in recognition of his services at Southampton.

It was not uncommon for Postmasters to receive a present from their staff on retirement or promotion. It has not been discovered what the staff at Southampton gave John when he retired but he got a silver tray from his Exeter colleagues. Rather surprisingly, when he left Colchester the staff there gave him an illuminated address and an "automatic spirit table", so it must be supposed that he was interested spiritualism at that time.

John and Ethel continued to live in Southampton after he retired and he died there about three years later. 178,179,180,181
John married Sarah Whale, daughter of George Whale and Sarah Fielder, on 3 May 1875 in St John's church, Hampton Wick, Middlesex 182.,183 Sarah was born on 5 Feb 1855 in Hampton Court, Middlesex 183 and died on 14 Nov 1897 183 at age 42. The cause of her death was pneumonia.
Sarah grew up in Hampton Wick where her father and her brothers were saddlers. At the time of the 1871 census, she was working alongside her elder sister Annie has a "postmistress" at much the same time as John is said to have been working as a clerk in the post office at Kingston-upon-Thames, which is no doubt how they met.

Sarah died of pneumonia at quite a young age while John was was serving as postmaster at Devonport.
Marriage Notes: John and Sarah had 11 children: Alice (1876-1955) who married a Post Office colleague Edgar Trevan, Ellen (1827-1958) who married Henry Wyatt; Alan (1879-1880) who died of measles, Annie (1881-1882) who also died of measles; William (b. 1882) who worked for the Post Office Engineering Department; Katherine (b. 1885) who married a widower, Robert Hudson; Spencer (1886-1977); Phyllis (1888-1888) who died as a small baby, Edgar (1891-1941), John (b. 1894) who was a dental surgeon in London, and Thomas (1895-1977).
10,26
John next married Ethel Lucy Wooster,183 daughter of Walter Henry Wooster and Blanche Bond, on 29 Jan 1910 in St John Baptist, Bathwick, Somerset 183.,184 Ethel was born on 18 Nov 1883 in Chippenham, Wilts 183 and died in 1951 in Uxbridge, Middlesex 185 at age 68.
Ethel's father was the postmaster of Chippenham at the time she was born; he later became postmaster of Oldham in 1894 and then, at the end of 1901, postmaster of Bath. He had retired by the time Ethel married John.

Ethel did not admit to any occupation when she married John but the Post Office Staff nomination and appointment records* show that she had in fact been working for the Post Office for some years before her marriage. She had started her training in her father's Post Office at Oldham in 1900 and from there had gone on to Manchester following her father's and her family's move to Bath. In 1905, after three years or so at Manchester, she had been promoted to the Exeter Post Office as a clerk and telegraphist where she stayed until 1909 when she transferred to Bath. Her time at Exeter overlapped with John's postmastership there, so theirs must have been an office romance.

* These records cover the period 1831-1969 and are available on microfilm at British Postal Museum and Archive in London or online from ancestry.com. 186
John and Ethel had two sons: Arthur Walter (b. 1912) and Richard Gerald (b. 1917). 10,26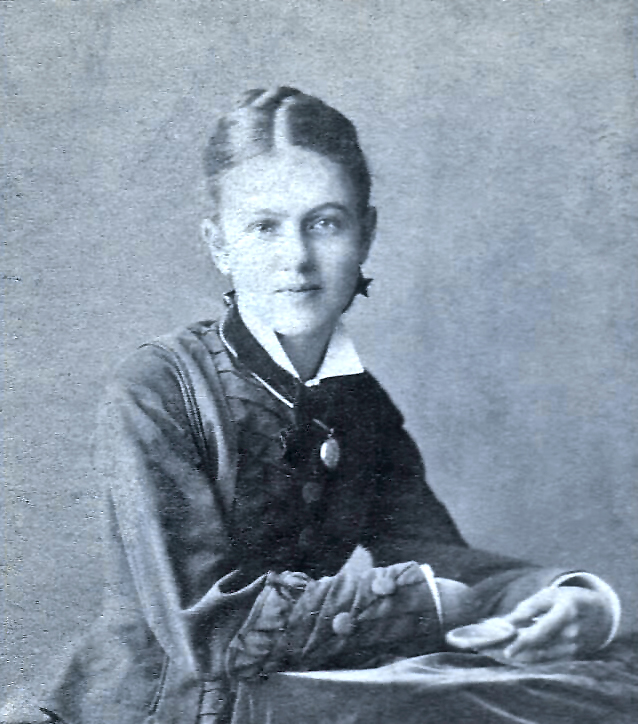 26 F xiv. Alice Maud Rebecca James 10,187 was born on 6 May 1855 in Newchurch, IOW,10,187 was baptised on 3 Jun 1855 in St Peters, Haven Street, IOW,188 died on 25 Feb 1947 in St Mary's Hospital, Portsmouth 189 at age 91, and was buried on 22 Mar 1947 in Bishopwearmouth Cemetery, Chester Road, Sunderland.
Alice was the youngest of the children born to John and Rebecca. Her son Dick writes that she had 20 siblings and a newspaper report of her sister Lucia's death even puts the figure as high as 22. However, it is difficult to see, given Alice's year of birth and her position as the youngest child, how her mother could possibly have produced 21, let alone 23 children during her childbearing years unless there were several sets of twins that did not survive; an explanation, incidentally, that Dick offers. A more accurate figure probably comes from the Isle of Wight parish registers. They record only 14 baptisms in which John and Rebecca are named as the parents and Alice's brother William John James confirms that count in his family records.

As can be seen from their occupations, Alice's parents were not very well off nor did they occupy quite the same social position as Eli's family and it would be interesting to know how Eli's mother regarded her daughter-in-law when Alice and Eli came to live with her in Northampton following their marriage.
However, as this account of the James shows, three of Alice's brothers made successful careers with the Post Office and rose through the ranks to be Postmasters at various towns in England, one being appointed an OBE on his retirement. Alice's other brother, her eldest, became the black sheep of the family on account of his and his wife's frequent appearances before the Ryde magistrates. Sadly, most of Alice's sisters did not make good marriages.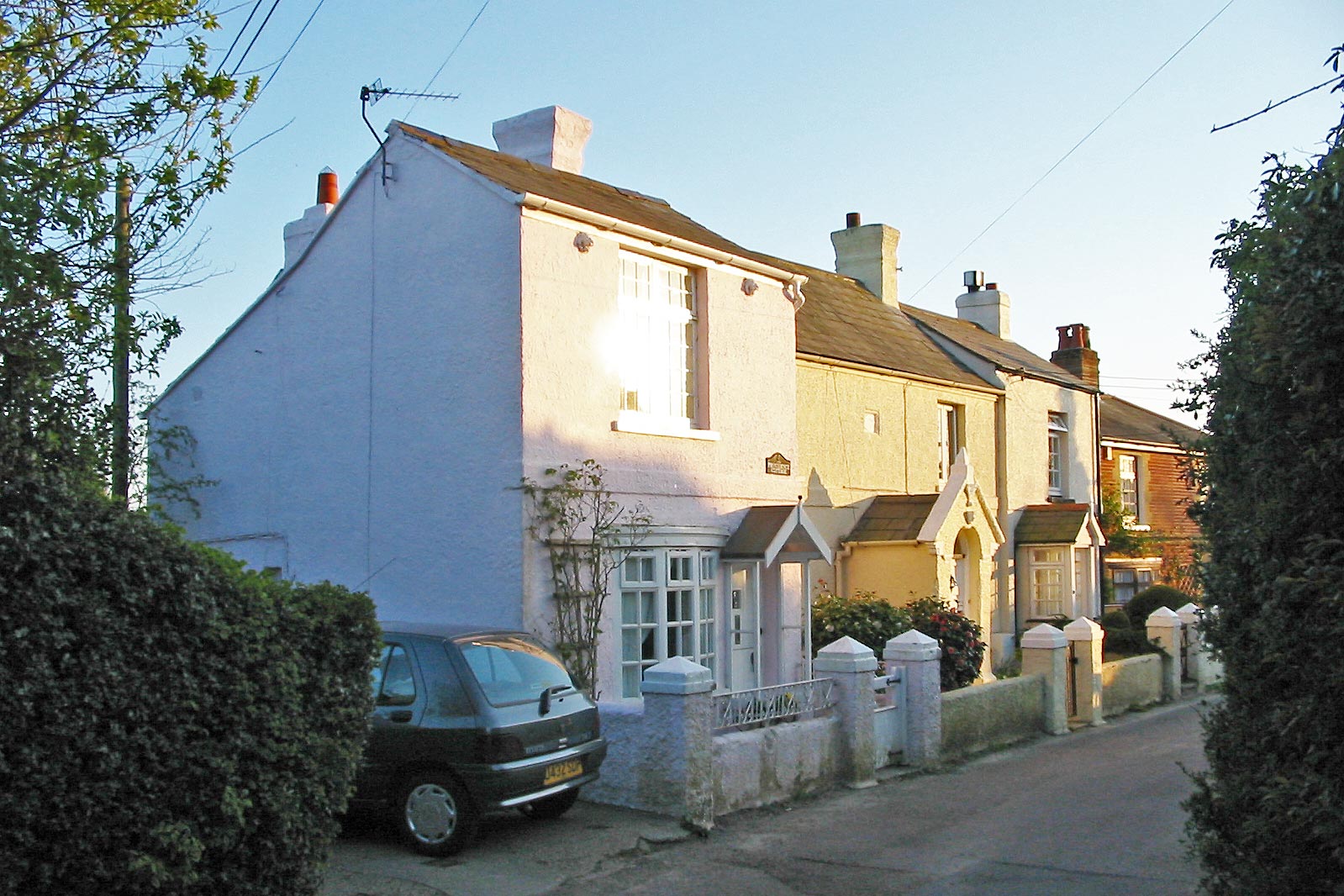 Alice grew up in Haven Street (later Havenstreet) where her family then lived in one of the three Providence Cottages near St. Peter's Church. The Providence Cottages were terrace cottages, one of which was said to have been built by Alice's great grandfather, David James. As can be seen from the photograph, they are fairly modest in size, indeed, the 1901 census describes them as having only 4 rooms each, which is how they were when the writer visited them in April 2002 but by then two of the cottages had been joined together.
Most of the James girls went in to domestic service on leaving school and it is likely that Alice was no exception particularly as she was living away from home in Ryde before she got married.

Alice and Eli were together for nearly 30 years and, if their son Dick's account is to be believed, it was a happy marriage. At the time of Eli's death in 1906, Dick wrote most warmly about his mother but as the years passed relations between them seem to have cooled perhaps on account of Alice's closeness to Dick's sister Norah who had become persona non grata as far as he was concerned after her divorce. Certainly, the writer does not remember his great-grandmother being mentioned very much.
That coolness was reflected in the Will Alice made in 1932 (her last) in which she left 3 Grange Terrace (the family's house in Sunderland from which Eli and then Dick practised) to Norah. That bequest was quite a blow to Dick who had been living there for nearly 30 years; worse still it meant that he became Norah's tenant until he retired in 1955 and gave up the house. Norah was the sole beneficiary of Alice's Will. 10,26,190,191,192,193,194,195

Alice married Eli Thomas Elkins Green, son of Joseph Coghlan Green and Amelia Catherine Kirby, on 6 F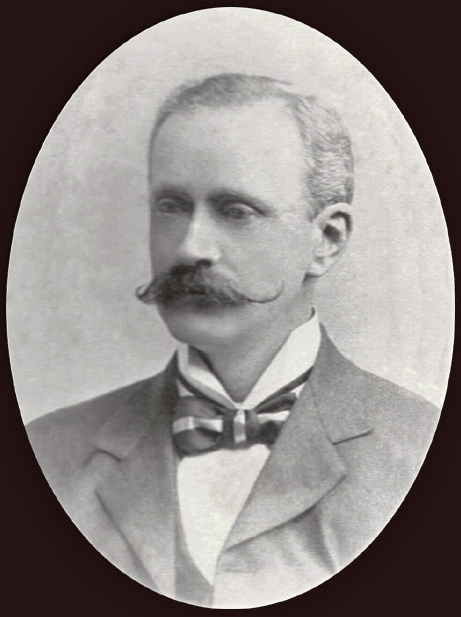 eb 1877 in Chapel of St Thomas, Ryde, IOW.196 Eli was born on 24 Jun 1851 in High Street, Towcester,197 died on 21 Apr 1906 in 3 Grange Terrace, Sunderland, Co. Durham 198 at age 54, and was buried in Bishopwearmouth Cemetery, Chester Road, Sunderland.
Alice and Eli had three children: William Elkins (1877-1909), Richard James "Dick" (1880-1978) and Alice Norah "Norah" (1883-1979).
Eli's father Joseph was practising as a surgeon and general practitioner at Towcester in Northamptonshire at the time that Eli was born. Later, the family moved to Northampton where Joseph spent the next 10 years or so acting as an insurance agent for one or two of the larger insurance companies and later, when his health began to fail, as a dispensing chemist.

Eli was educated in Northampton and also served a dental apprenticeship there before going to London to train further. After he and Alice were married, Eli worked in Oxford for a while before setting up a practice of his own in Northampton. The latter did not flourish and he went to work for a dentist in Sheffield for about three years before moving on to become Acting Surgeon Dentist at the Worcester General Infirmary. From there he and the family moved to Sunderland, supposedly to benefit his health, where he was in practice for about 12 years before dying rather suddenly in 1906. His son Dick then took over the practice and continued with it until 1955.
Alice and Eli must have been fond of Havenstreet because all three children were baptised in St Peter's Church there at various times despite the fact that the family was living some distance away in either Oxford, Northampton or Sheffield when they occurred. The need to travel such distances may account for why all the baptisms were arranged to take place when the family was holidaying there in the summer. Additionally, Dick Green writes warmly of visiting the Isle of Wight during his childhood; it was probably only during those years that he saw much of his James relations. 10,26
| | |
| --- | --- |
| | |
| St Peter's Church, Havenstreet — 2002 | St Peter's Church aisle & font |
---
Home | Table of Contents | Surnames | Name List
This Web Site was Created 2 Jan 2016 with Legacy 5.0 from Millennia